I was in charge of The Gift of Giving Life blog this week. I had been pondering what I should write for my Friday post for a couple of weeks. I had one topic in mind, but as the time came closer for my blogging turn, it felt like there was something else I needed to write. Even as I sat down to write the post, what came out of me wasn't what I was expecting. Here's an excerpt…
When I start feeling sorry for myself or overwhelmed by all the day-to-day problems and concerns in my life as a wife and mother, it often helps me to think about my great-grandmother, Cassie.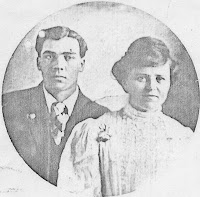 Cassie was born in 1890 in a two-room log cabin in Mapleton, UT, "one mile west of one of the most beautiful mts. in the world," as she described it. Cassie wrote, "Well you know that the years from 1907 to 1918 were the happiest and grandest years of this mortal life to me." 1907 was the year she met and married her sweetheart, Edmund, and the autumn of 1918 was the start of several years I can't even fathom enduring.
In October of 1918, Cassie was approximately eight months pregnant with my grandfather. At this time, her mother-in-law (Grandma Roundy) came by train to visit, but she was unknowingly exposed to influenza en route. Within three days, Cassie's husband Edmund, their four children, Grandma Roundy, a sister-in-law and family, and Cassie's sister Ella and her husband had all come down with influenza.
These are Cassie's words about the days that followed:
Memory you can never forget the agonizing hours I spent in those days and the following weeks and months. We had 3 cows, 4 calves, 14 sheep, and 6 head of horses. They must be fed, watered, and the cows milked twice a day. How my back would ache when all was done for the night. It was almost beyond my strength to endure. Edmund raised up in bed and said the most beautiful prayer I ever heard for me. He asked the Lord to bless me and make my back able to bear the burdens that were placed upon me and many more beautiful things.
All of this while eight months pregnant.
Within three days, Cassie's beloved Edmund passed away. Six weeks later, she gave birth to my grandfather, Edmund.  (Read the rest of Cassie's inspiring story HERE.)