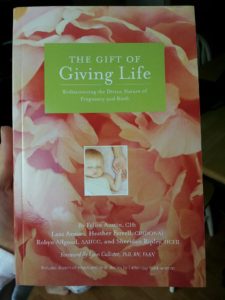 Saturday was my birthday, and I was given a wonderful gift at the end of the day. I received an email from one of my readers, sharing how my essay "Unity with Providers of Care" (in the Unity chapter of our book) had a positive impact on her. She also shared a beautiful spiritual experience she had after reading my essay. With her permission, I share it today. -Lani/Busca
I've been reading your blog for a while now, and have been making my way through The Gift of Giving Life, and I wanted to tell you how much your book has helped me.
Long story short, I was very unhappy with the hospital care I received with my 3rd child. While I like the Ob/Gyn I normally see, they have about twenty doctors that rotate at the hospital. With my 3rd child, I played Russian roulette with this system and ended up with two very horrid doctors who threatened and yelled at me for giving birth the way I wanted to. So I have been hoping to find—and not have to pay for—a better option for my 4th child.
Yesterday I had a very important meeting with the head OB for the insurance provider we have to discuss whether or not I could get a referral to a birthing center.  I'd been waiting for a month for this appointment and was very keyed up about the whole thing, so I went to bed the night before knowing that I probably wouldn't be sleeping well…
Read the rest of the post HERE.