Give The Gift of Giving Life this holiday season! Get 33% off when you buy three or more copies of our book HERE using coupon code FSLUTHK9!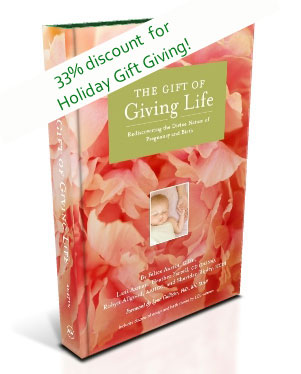 Get three books for only $40.17. It is pretty much buy 2 get 1 free!
Regular shipping is $4.77. If you want the books to be under the tree you should order by December 12th for regular shipping.
The Gift of Giving Life is also a perfect gift to have on hand for baby showers too, so stock up now! One woman bought 6 copies – 1 for each of her daughters and daughters-in-law. Another bought 10 copies to have on hand as baby shower gifts.
Offer ends December 20th.
I'm planning to purchase several (once I figure out what my mailing address is going to be next month). I hope you will too!
p.s. Just as a reminder… I'm not sharing this to put money in my pocket. I won't see a penny from your purchases (and I don't get any free books myself). We just want to spread the message of our book far and wide… that God will help us through all the challenges and triumphs of the process of giving life and that our Heavenly Parents care deeply about the life-giving process from start to finish.
Enjoy!